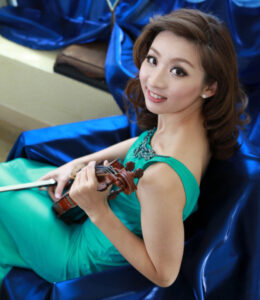 eRika ヴァイオリニスト
京都生まれ。中学校卒業後単身渡米。17歳でニューヨークのマネス音楽大学に入学。卒業後、欧米でデビュー。その後ジュリアード音楽院、パリエコールノルマル音楽院で研鑽を積む。国内外のコンクールで最優秀演奏賞を受賞。ルーマニア国立オーケストラ定期演奏会では再々ソリストを務める。例年、国際的な演奏家と共演を重ねる一方、毎年ウエスティン都ホテル及び東京でのシリーズ公演を開催。オーケストラ・バッハ・ゾリステンとの共演では一夜に三曲の協奏曲を弾く偉業を達成。又マレーシアに招かれ在日本大使館でリサイタルを開催頂く等、日本各地、ニューヨーク、フランス、韓国、アジアへと活動範囲を広げている。ラジオパーソナリティーとしても活動。(FM79.7「erikamusica2you」)ウェブサイト http://erikamusica.com
2018年11月18日
「TUNAMIヴァイオリン」語り・下條アトム氏と公演。於:京都ALTI
2019年 3月 8日
チャイコフスキーコンクールチェロ優勝者セルゲイ・アントノフと公演。於:大阪フェニックスホール
eRika / Violinist
Started violin at age 3. After graduating junior high school, she moved to the U.S alone and at age 17, she entered Mannes College of Music in New York.
In 2008, eRika got the Best Performance Award at Japan Classical Music competition.
After graduating Mannes College, started performing as a soloist, also playing in chamber groups and several orchestras in NY.
In 2010, she gave her solo debut in Romania with National Philharmonic of Romania.
After 9 years in New York, she decided to move to Paris and studied at École Normal de Musique de Paris.
In 2011, eRika was invited to perform again in Romania as a siloist, and also she got the Disguinshed Award at IBLA GRAND PRIZE in Italy.
Fall 2011, she finished her 10 years studying in abroad.
2012, she gave her first recital in her hometown, Kyoto with pianist, Ilya Kazantsev.
2013 her second reictal in Kyoto with the world-famous violinist/ violist, Sergey Malov.
Fall 2014 eRika will have her third recital with pianist, Sehwan Park who plays in New York, Korea and all over the world.
eRika and Sehwan are planning to have recitals in New York where Sehwan lives, Kyoto and Korea.